Beyond gasoline: Prices surge for oil-based goods
Some consumer-products companies are starting to pass on higher energy costs to consumers.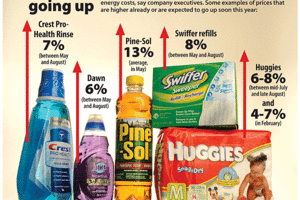 SOURCES: Clorox; Kimberly-Clark; Procter & Gamble/PHOTO: MARK THOMSON,GRAPHIC: RICH CLABAUGH – STAFF
Besides gasoline, the Department of Energy calculates, there are 57 major uses of petroleum – everything from cosmetics to ballpoint pens, nylons, and even the waxes in chewing gum.
That is why the effect of high oil prices is now spreading well beyond the pump, where gasoline hit another record price of $3.98 a gallon on Wednesday. Now, consumers will have to brace themselves for other higher costs, since businesses such as Kimberly-Clark, Procter & Gamble, and Colgate-Palmolive are raising prices on their products to recoup energy costs.
In brief, this means less money in consumers' pockets in the months ahead. But it also goes beyond consumers. For example, the price of asphalt is up 65 percent so far this year – and municipalities' and states' road departments are cutting back. This may mean bumpier roads ahead.
"Not quite half of what we consume is energy, food, and other commodities that are significantly affected by the rising cost of petroleum," says Mark Zandi, chief economist at Moody's Economy.com.
On a year-over-year basis, energy prices are up 15.5 percent. Much of the most recent surge in oil prices has yet to be factored into consumer prices. But anecdotal signs are emerging that companies can no longer absorb the higher energy costs.
---