Money pressures pile up on the U.S. consumer
The economic slowdown is making long-term woes – such as rising debt and slim pay raises – more acute.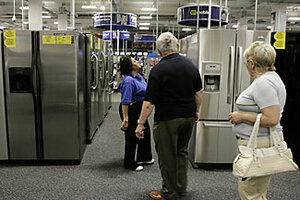 The price of oil ranks at the top of Americans' economic concerns right now, but it's not the only reason consumers feel squeezed.
Boston resident Toni Carter doesn't drive to work but has a handful of challenges on her mind:
•Slim pay raises.
•Replacing her part-time job with a full-time one.
•Paying down the debts she and her husband owe – including one for oil.
"We still owe a bill from the winter," she says. "The oil company allowed us to go on a payment plan. I expect that we'll pay our winter heating bill all through the summer."
Ms. Carter isn't sure if they can afford a driving trip to visit in-laws in upstate New York this summer.
Yet, as American households go, they're not in particularly bad shape. As renters, for example, they don't have a big home loan. Millions of Americans are feeling more bank-account stress.
Rising consumer prices and the sliding value of houses have ratcheted up the pressure in the past year or more. The current economic slowdown is also exacerbating longer-term trends, such as rising debt levels, lean income gains, and the fact that many are underemployed – working less than they'd like.
For example, as a record number of homes go into foreclosure, the banking system is also under strain. That pressures banks to raise interest rates on credit cards just when many consumers would most like to use them.
Meanwhile, the labor market is cooling – making it tougher to win pay raises or to find new jobs.
These challenges are not confined to any one region of the country. But in Boston, as elsewhere, it's middle- and lower-income residents who face the greatest stress.
"The economy is getting just terrible," says Teresa Brown, who works at a Boston-area bank. From gas to groceries, she says, the price level "has gone up high, high, high."
---