The job market's big slump
The month of May had the sharpest increase in the US unemployment rate in 22 years.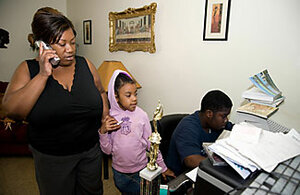 Stephen J. Carrera/Special to The Christian Science Monitor
The United States is now in a jobs recession.
For five consecutive months, there has been a steady loss of jobs, mostly in construction and manufacturing. Now, the job losses are spreading to restaurants, retailers, airlines, and even professions such as accounting. Teens are having an especially tough time finding work this summer.
The lack of hiring and increase in firing have wide ramifications for the US. The job losses will probably intensify the debate in the presidential campaign over who can best stimulate the economy. With more of their constituents out of work, members of Congress may act to provide additional aid to the unemployed. And a higher rate of unemployment – it hit 5.5 percent in May – may put additional pressure on the Federal Reserve, which has indicated it may have stopped lowering interest rates for now.
Last Friday, as the price of oil soared, Wall Street reacted badly, with the Dow Jones Industrial Average falling 394.64 points.
"The economy is now literally at stall speed," says Bob Gay of Fenwick Advisers in Rye, N.Y. "When the economy is operating at its potential, we can create about 100,000 jobs a month. But now, we are losing about 50,000 jobs a month."
---