Sticker shock at the supermarket
U.S. families use ingenuity and belt-tightening to save on mounting grocery bills.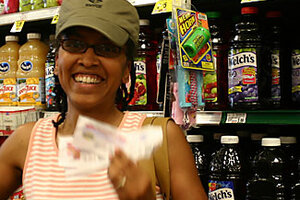 Patrik Jonsson
Tonya Brown never used to mess much with coupons and in-store "10 for $10" sales. But over the weekend, this mom from Decatur, Ga., came armed to the Kroger grocery store with a fistful of store coupons and sent her kids, Jordan and Nia, out into the aisles in search of bargains.
"Just in the last week I've started paying attention," says Ms. Brown. "My main thing is to make sure we eat healthy foods, and those are the ones getting really expensive. It's becoming a real challenge. If we could save $200 a month on groceries, that's major for us right now."
Like tens of millions of Americans across the income spectrum, Brown's checkbook is feeling the vise grip of rising prices, tighter credit, and stagnant paychecks.
With food prices up 6 percent from last year – flour alone has gone up 87 percent – and gasoline prices up by more than a dollar since 2006, the receipts are adding up, causing a "dramatic" shift in kitchen-table decisions from Albuquerque to Atlanta, says Maura Daly, a spokeswoman for the charitable hunger-relief organization America's Second Harvest in Chicago.
---