A weather-beaten economy
Severe weather in the US interior has wrought economic disaster. But recovery may be quick.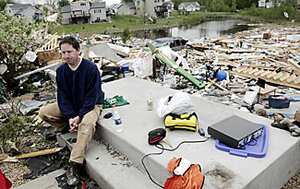 Jim Mone/AP/File
The severe weather that has battered the interior US this year is taking an economic as well as a human toll.
Damage from recent rains and flooding in the upper Midwest appears likely to reach hundreds of millions of dollars, according to the National Weather Service. Roads and bridges have been washed out, crops damaged, and hundreds of homes and businesses inundated with floodwaters.
This isn't good news for the nation's already-teetering economy. The price of corn, wheat, and soybeans has moved up sharply in recent days, in part due to poor planting conditions in the agricultural heartland. The closure to barge traffic of 200 miles of the Mississippi River this week further will disrupt the distribution of key commodities from grain and coal to steel and fertilizer.
For the hard-hit communities themselves, however, tornadoes or floods need not be an economic disaster, particularly if they wisely use aid and recovery dollars.
Once a community has been hit, it tends to come back stronger three to four years out, says Bradley Ewing, an expert in ecological economics and professor of operations management at Texas Tech University in Lubbock, Texas.
---