Why more offices are going to the dogs
Pets can reduce stress, managers say. Yet most firms want Fido to stay at home.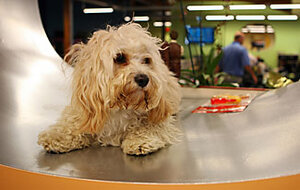 Melanie Stetson Freeman - staff
At Sermo, a Web company whose offices resemble a Romper Room for adults – complete with beanbags and arcade machines – finding the CEO is easy. Just look for his dogs. This particular afternoon, Daniel Palestrant's two dachshunds act like draft stoppers outside their master's conference-room door. Mr. Palestrant is something of a Pied Piper for dogs and instituted the office's pet-friendly policy. As such, he loves to see employees playing with Lily, a Yorkshire terrier that treats a pink tennis ball like a homing beacon, or stroking Maddie, a woolly bichon frisé.
"What does it mean to work in a young, fast-growing start-up company? A little bit of chaos. A little bit of cleaning up everybody's mess. And you can't take yourself too seriously," says Palestrant, who founded Sermo as an online community for physicians. "We started finding that people who are most comfortable with dogs around are the one's who gravitated toward the Sermo culture."
For many companies, Friday's ninth annual Take Your Dog to Work Day will be the closest they get to experiencing Sermo's roly-poly atmosphere. Yet pet-friendly workplaces are on the rise. They're part of a broader axis shift: A younger generation is rejecting formal office culture in favor of fun workplaces that are fulfilling. But a wider adoption of the benefit will depend on how companies handle issues relating to allergies and the personal discomfort of some workers.
"There are more companies that are shifting toward offering dog-friendly work policies because they can use that to attract employees," says Cameron Woo, publisher of Bark magazine. "People are realizing that the button-down white shirt and tie office environment that our parents grew up with doesn't have to [continue]."
---