Rising mortgage rates add to housing woes
Higher mortgage rates since March are tied in part to investors' inflation worries.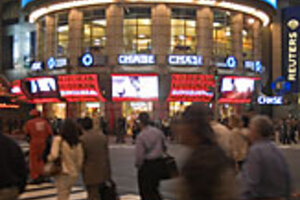 NEWSCOM/File
Rising mortgage rates, reflecting higher inflation, are starting to compound the US housing market's woes.
Since March, mortgage rates have climbed as much as a full percentage point. For someone borrowing, say, $400,000, that could tack an extra $320 onto the monthly payment.
The implications of rising mortgage rates are not good, say economists and mortgage industry specialists. With the housing market still very weak, higher mortgage rates will act like a brake on any recovery in the sector. A hobbled housing market, moreover, means the economy as a whole will remain weak.
"The housing market needs to recover for the economy as a whole to fully recover," says Lawrence Yun, an economist at the National Association of Realtors in Washington. "Without housing recovering, the economy will remain sluggish."
Mortgage rates now range from 6.4 percent to 7.0 percent for a 30-year fixed-rate mortgage, depending on the issuer. That's an increase of anywhere from a half a percentage point to a full percentage point higher than the rates earlier this spring.
Higher interest rates on home loans mean home buyers must either put up a larger down payment or find a different house they can afford. For individuals seeking to refinance their homes, higher interest rates may ultimately force more foreclosures for those who are already financially stretched.
Home lending rates started ratcheting up even while the Federal Reserve has been lowering short-term interest rates. Since March, the Fed has lowered rates one full percentage point. But the Fed has less influence on long-term interest rates, such as the 10-year Treasury rate. Long-term rates have jumped as investors have started worrying about inflation. Through May, the Consumer Price Index is running at a 4 percent annual rate.
---