Can farmers salvage a soaked planting season?
Ebbing water, good weather brighten outlook in Midwest, but numerous obstacles remain.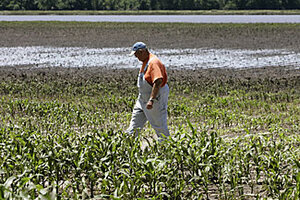 Jeff Roberson/AP
When the rains finally stopped and the sun began to dry their rain-soaked fields, the Bowman family and their neighbors wasted little time. Last week, they scrambled to plant fields that had lain too wet to plant all spring. Some of them worked late into the night, their high-intensity tractor lights piercing the darkness and global-positioning devices guiding them straight across barren fields.
"A lot of progress has been made this week," says Chris Bowman, who, with his father, farms about 2,000 acres near DeWitt, Iowa. "I'd say a lot of the crop is in."
Receding water and clear weather have rekindled the hopes of many Midwestern farmers. Even as rising water broke through levees on the Mississippi River, flooding more towns and farmland, elsewhere in the region farmers rushed to take advantage of a spell of good weather, eager to salvage what was left of the rapidly concluding planting season.
Some farmers, like the Bowmans, were able for the first time this season to plant fields that had until now been too wet to plant. Others replanted fields for the second or third time. Still others waited anxiously for a few more days of good weather to dry the mud and ponded water that still kept them out of their fields.
At the same time, the improving conditions quickly affected the commodity markets. The price of a bushel of corn, which had risen for two straight weeks, began to fall after reaching record levels of nearly $8 a bushel. Terry Roggensack, an agricultural specialist for The Hightower Report, a firm that does research for brokerage firms and the Chicago Board of Trade, says news of flooding along the Mississippi River was less important than the return of good weather.
"It's very good television and good drama, and it's good to put the guy on there who lost 10,000 acres when the levee broke," says Mr. Roggensack. "But in terms of the grain market, it's a small thing when it's 80 degrees and sunny in the Midwest."
---