These banks step in to avert foreclosure
A handful of community-development institutions offer modified interest rates to at-risk borrowers.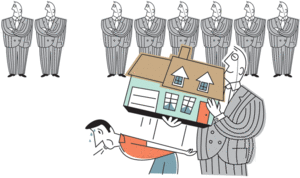 Scott Wallace
Last year, Rudy Villareal was living the nation's housing crisis. His two subprime, adjustable-rate mortgages were due to reset at 12 and 13 percent. At those rates, losing his family's first home was an all-too-real possibility.
But Mr. Villareal, a City of Chicago laborer with a wife and 11-year-old son, got a home-saving break through a for-profit program financed by socially minded depositors. Chicago-based Shore­Bank saw his solid payment history and put him in a 30-year, fixed-rate mortgage at an affordable 6.75 percent.
"Everybody else wanted me to have perfect credit, but it doesn't always work that way," he says. "Now I'm not stressed out to the point of, 'What am I going to do next?' "
While millions of Americans are struggling to hold onto their homes in the midst of a housing-finance crisis, a handful of mission-driven banks are riding to the rescue.
For now, they are offering programs that will help just a few pinched homeowners and neighborhoods on the precipice of blight.
"Most banks are running as fast they can away from this issue," says David Reiling, CEO of Sunrise Community Banks, a family of three community-development banks trying to help improve troubled neighborhoods in Minnesota's Twin Cities area. "We're running into the fire."
---