Take a vacation. Really.
Some companies set policies to encourage reluctant workers to take time off.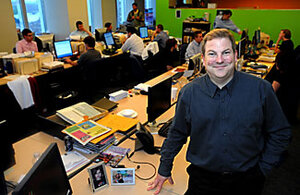 ann hermes
Among all the people relaxing on the beach at Marco Island, Fla., earlier this month, Chuck Casto might have ranked as one of the happiest. And why not? His five-day trip with his wife and 7-year-old daughter marked his first major vacation in nearly seven years.
"It was a great opportunity for us to recharge and spend time together as a family," says Mr. Casto, a vice president at CSN Stores in Boston, a Web-based business selling home goods. "The weather was good. It was just what we needed."
Casto's vacationless years began when he worked for advertising agencies. "There's no break in the action," he says. "You just keep going." He continued the pattern when he ran his own consulting firm for nearly four years. "When you're your own boss, it's very difficult to carve out time to take a break."
Now he revels in working for a company that actively encourages people to use their allotted three weeks of time off. "It's one of the strong benefits that everyone takes advantage of," he says.
---