A global war on inflation
Many nations have begun to tighten their credit reins in an effort to curb rising prices.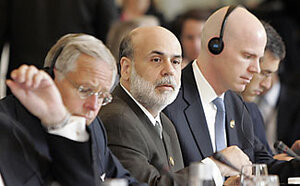 Susan Walsh/AP
With inflation a rising threat, nations around the world are trying to navigate a delicate task: containing that price pressure even as the linchpin US economy reels from the opposite challenge of a credit bust.
If all goes well, the global economy will muddle through.
But signs of how difficult this will be are all around. Rising unemployment in America, for example, shows that the risk of recession is real – and could potentially spread worldwide.
Global inflation is growing harder to ignore. Oil, which has become the main symbol of global inflation, traded at a new record Monday. And European inflation has reached highs never seen under the euro currency. By one new survey, 3 billion people – 42 percent of the world's population – are experiencing double-digit annual rises in consumer prices.
That's why many nations have begun to tighten their credit reins in an effort to curb inflation. This Thursday, forecasters expect the European Central Bank to join the battle by raising its interest rate. Sweden and Indonesia may do the same that day. Even the US Federal Reserve has been forced to consider a tighter policy.
"It's conceivable that the synchronized tightening by all these emerging economies and the European Central Bank [could] cause a global recession, which would bring oil prices down," says Ed Yardeni, an economist who heads Yardeni Research in Great Neck, N.Y.
---