Big trouble for Big Three automakers
Shares of General Motors are trading at prices last seen in the 1950s.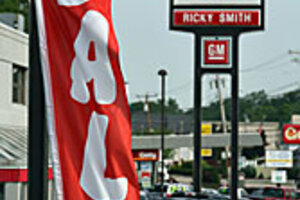 melanie stetson freeman – staff
America's automobile industry may be facing the biggest turnaround challenge in its history, a problem punctuated Tuesday as the carmakers released monthly sales results.
Times were tough enough in Detroit before gasoline hit $4 per gallon, but in the past two months the outlook has taken a turn for the worse.
Shares of General Motors are trading at prices last seen in the 1950s, their value cut in half in just eight weeks. Ford and Chrysler are in even worse shape, analysts say.
The sobering implication: The Big Three may have to become the Big Two, and even survivors will have a tough road ahead.
Bankruptcy is not a near-term threat, but the three carmakers are fast burning through cash reserves. And while government assistance – or perhaps an energy policy that supports new automotive technologies – could become a lifeline, it can't substitute for the hard work of transforming product lines.
"The rate of cash usage is alarming," says Gregg Lemos Stein, an auto analyst at Standard & Poor's in New York, which has put all three carmakers on "credit watch" to review the default risk on their debts. "They've never been lower than this," he adds, referring to S&P's current B rating on their debt.
The current debt ratings place the Detroit automakers in what's known as "junk bond" status, below the typical quality range known as investment grade. The good news: Bankruptcy or default isn't an imminent risk, Mr. Lemos Stein says, because the companies headed into this crisis with cash on hand.
---