As G-8 meets, free trade under fire
Recent economic woes are raising new doubts about the benefits of globalization.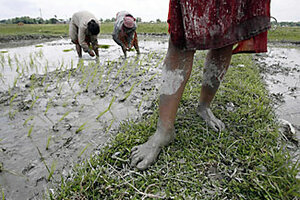 Rupak De Chowdhuri/Reuters
The long trend toward open trade and global markets is under new stress as problems from food shortages to climate change test its staying power.
The march toward economic globalization is not shifting into reverse gear, but it shows signs of deceleration as leaders of the developed world meet in Japan this week for their annual summit.
They'll be focusing on issues of immediate concern – from how to tame the alarming inflation levels to non economic concerns such as delicate nuclear diplomacy with North Korea. But their agenda also includes a more general problem: how to maintain expansion of global commerce, which has helped many countries reach new levels of prosperity but has costs as well as benefits for workers.
This problem isn't new, but it has greater urgency this year because of a slowing economy that has dampened consumer confidence worldwide. The rising clout of emerging economies adds another challenge – balancing the interests of rich countries against those of developing nations.
Finding the right path forward is tricky.
"There's real risk here, and the stakes are pretty high" says Michael Spence, an economist who recently chaired a commission on global development. "The main thing that's enabled the high growth where it's occurred ... is really access to the global economy."
The trials of 2008 – soaring food and energy prices and a downturn in the vital US economy – are just the sort of environment in which doubts about free trade often increase. But this environment may also represent an opportunity, a nudge for world leaders to make sure that the benefits of economic policies are shared as widely as possible.
---