Companies embrace praise
Employee recognition – especially in a down economy – can be an effective and inexpensive morale-booster.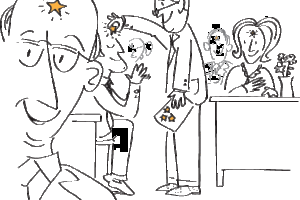 John Kehe–STAFF
The human desire for recognition starts early. Watch a third-grader beam at the gold star on a spelling paper, or a high-schooler triumphantly clutch a sports trophy.
In the workplace, that recognition takes many forms. Sometimes it's a quiet thank you, other times a bonus or a public award. Either way, it is a gesture that employers ignore at their peril.
So important is recognition that employee-appreciation programs are turning into a veritable industry, with national and even international organizations helping firms reward workers for a job well done.
Companies spend more than $1 billion annually on employee service awards, according to the Promotional Products Association International. Dozens of firms, large and small, even employ a manager to handle corporate recognition. At Cargill Inc., the title is chief recognition officer. At Intel, it is corporate recognition manager. Business books feature titles such as "Hug Your People" and "The Power of Appreciation in Business."
"If everyone was treated with respect and courtesy from the beginning, we wouldn't need this industry," says Christi Gibson, executive director of Recognition Professionals International in Naperville, Ill. She notes that in a survey of 10,000 employees from Fortune 1,000 companies, a lack of recognition was a major reason for leaving a job.
---