Inflation surge puts Fed in a quandary
After the biggest monthly rise in consumer prices since 1991, the central bank can't ignore the risks of inflation.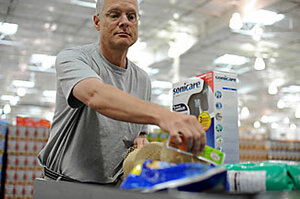 Ann Hermes
Consumer prices took their biggest upward jump in 17 years last month, a surge that highlights the squeeze on America's standard of living and the difficult policy choices facing the Federal Reserve.
Fed officials are walking a fine line – and at the moment they'd rather not be forced to focus on inflation as their top priority. They're also trying to revive a moribund economy and prevent a crisis in the financial industry from growing more severe.
Even as consumer prices surged 1.1 percent in June alone, some other news this week gives the central bank some leeway to balance those competing goals. Oil prices, which have been the big driver of inflation around the world this year, fell dramatically.
After trading at about $147 per barrel, oil dived below $134 Wednesday morning. The change stems partly from higher-than-expected crude-oil inventories, announced by the Energy Department, and partly on other factors such as signs of economic weakness.
Still, after a two-day drop, it's too early to say that oil prices are at a turning point. And inflation indicators remain higher than the Fed would like.
"It's a major concern," says Michael Cosgrove, who publishes the EconoClast, a market newsletter in Dallas. "What they're hoping is that the commodity prices start to drift lower later this year. If that happens, then that will go a long way toward resolving the inflation issue." US workers and consumers have been squeezed this year by a combination of fast-rising prices and an economy that's barely growing – with the number of jobs actually falling each month.
---