Economic stimulus, Round 2?
Rumblings about a possible second boost prompt economists to look at alternatives to the 'tax rebate.'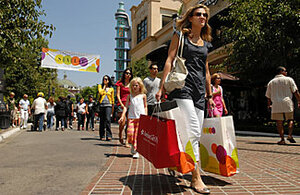 Mary Knox Merrill - staff
No one can remember the last time Congress enacted two major economic stimulus packages in one year. But 2008 may see a sequel to the $100 billion worth of checks that started filling individuals' bank accounts in early spring.
Democrats say they will proceed this fall with a "Son of Stimulus." Whether it materializes is questionable; President Bush currently opposes such a move, preferring to wait to see the full effect of the first stimulus package.
As for economists, some say it's a good idea, if done differently from Round 1, but many are skeptical that money can start to circulate through the economy quickly enough. One reason for their concern: Surveys are finding that a major chunk of the money already doled out is going into savings instead of spending.
The impetus for Congress, besides the election year, is a US economy that is not expected to show much change from its current weak conditions by the time lawmakers return from their August recess. The unemployment rate may be trending higher. Energy prices, one driver of inflation, are likely to remain relatively high at least until the end of hurricane season in late November. While new housing starts may be showing signs of stabilizing, home values could still be falling.
"Whether we have negative growth or not, the economy is barely positive, it is going nowhere," says Joel Naroff of Naroff Economic Advisors in Holland, Pa.
---