Consumers hunt for price relief at the pump
Certain payment methods can save you pennies per gallon, but that can add up.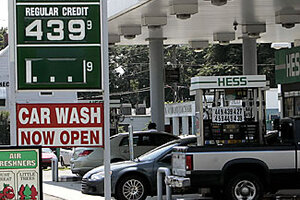 Bob Child
If you're fed up with gasoline prices swallowing more of your income, you're probably echoing the proactive views of Susan Graham of Bellevue, Wash. In her area, prices have swelled to more than $4.50 a gallon. So she, like ever more Americans, finds it "important to do something to curb costs."
Certainly, Americans can take steps to improve fuel efficiency – properly inflating tires, emptying the trunk, getting regular tune ups, driving more slowly, etc. But motorists can also save money at the pump.
Among the options: getting a discount for paying with cash; using a gas rebate credit card; or embracing newer technologies that combine some of the features of using plastic with the benefits of immediate discounts.
A customer who pays in cash can receive discounts from gasoline retailers willing to pass along savings created by cutting out fees they would have paid to credit-card networks. Those fees, station owners say, are rising with the cost of gas and further eroding their thin profit margins.
On a national level, gasoline retailers are giving discounts of from 8 to 14 cents per gallon to those who pay with cash, reports Michael Fox, executive director of the Gasoline and Automotive Service Dealers of America, a trade association for gas retailers in Connecticut. Although he and others have no national figures on how many retailers offer discounts for cash, about 50 Connecticut stations – those selling Hess, Shell, Irving Oil, or unbranded gasoline – had two-tiered pricing, Mr. Fox says.
---