Fuel cost now driving up electric bills
Disconnect notices have risen sharply, indicating stress on more households.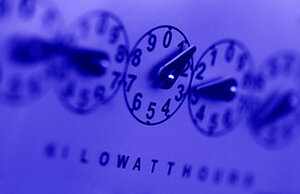 newscom
Rising energy prices are now squeezing consumers from a different direction: their utility bills.
Consumers from California to New York are facing rate increases of as much as 30 percent. Average homeowners' electric bills are now heading towards $70 to $80 a month in some states. And low- and middle-income residents are having trouble paying their bills as evidenced by a large increase in disconnect notices.
"Electricity's been cheap for a long time, it's just catching up," says Mark Wolfe, executive director of the National Energy Assistance Directors' Association in Washington.
On a national basis, the federal Energy Information Administration (EIA) estimates that electric bills will rise 5.2 percent this year. But next year, they're expected to rise 9.8 percent.
"In the last two months, 20 to 30 utilities started requesting to have their rates increased," says Tyler Hodge, an electricity analyst at EIA in Washington. "With the rise in fuel costs, other utilities will follow suit pretty soon."
The fuel cost that has risen the most so far is natural gas, up about 40 percent in the past year. Last year at this time, the spot price of natural gas was $6 per million BTUs. Thursday morning, the price was $9.85 per million BTUs. In early July it reached as high as $13.31.
---