Housing crisis hits exurbs hard
Home values have fallen 43 percent in Victorville, Calif., but the city has rebounded from previous slumps.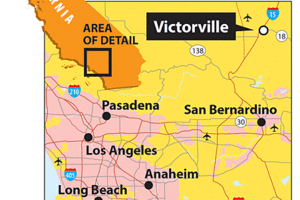 Rich Clabaugh–STAFF
Realtor Jackie Harvey hadn't seen a single customer by 4 p.m. Sunday in her Arbor Lane sales office. None came Saturday, either, to see the modest Spanish-style homes she was selling, one of many such new developments in Victorville, Calif. These days she anxiously awaits even the slightest nibble from a potential buyer as she frets about how she'll ride out the nationwide housing crisis.
"We're starving," says Ms. Harvey, who recently filed for unemployment compensation. "I'm basically working for free."
Victorville and other exurbs like it lie at the core of America's mortgage meltdown. A year ago, it was America's second-fastest-growing city (behind New Orleans) with a 9.5 percent surge between July 2006 and July 2007. Now, foreclosures have more than doubled in the county. New home prices in the city have plunged 43 percent.
But while new exurbs – those once fast-growing communities at the fringe of major metropolitan areas – will rebound much more slowly than traditional suburban and urban communities, housing experts say, city leaders here are more upbeat. They have one advantage: They've learned how to handle downturns, offering one model of survival for other exurbs reeling from the housing crisis.
---