Does U.S. lumber need labeling?
Certifiers of responsible practices aim to curb illegal logging. But enforcement hikes prices for consumers.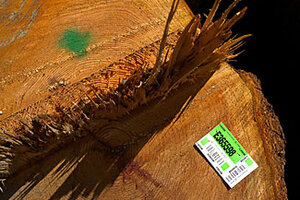 benjamin brink/ap
Consumers shopping for paper, lumber, and other forest products are increasingly finding items labeled to vouch for the responsible practices that went into bringing these goods to market.
These special seals tell shoppers that their new pine flooring or the book in their hands came, for example, from forests where animals thrive and cut trees are replaced by well-chosen saplings. The most common labels say either FSC, for the nonprofit Forest Stewardship Council, of SFI, for the Sustainable Forestry Initiative, a nonprofit that became independent from the forest products industry in 2007.
Certification is catching on, especially overseas as markets grow for certified products. The amount of forest land certified by FSC grew by 47 percent over the past two years to more than 206 million acres worldwide. Now about 10 percent of the world's pulp supply is FSC-certified, according to Liza Murphy, an FSC managing director in Bonn, Germany.
Retailers in the United States, meanwhile, are positioning themselves to sell more certified products. Lowe's, for instance, derives almost 70 percent of its wood products from certified sources, up from about 60 percent five years ago. In May, the Northeast Lumber Retailers Association (NLRA) launched a new program to help its 1,300 members get credentialed to sell certified products.
---
Follow Stories Like This
Get the Monitor stories you care about delivered to your inbox.