Tennessee church attack spotlights scapegoat mentality
Economic hard times also may have played a role in this week's attack on a Tennessee church.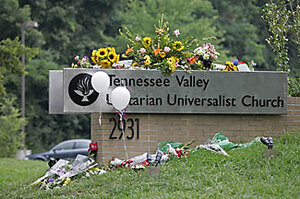 wade payne/ap
Attacks on the innocent – especially those in churches – may seem irrational and horrific to all but the attacker. But beneath the details can be a deep sense of victimization and scapegoating that may be tied to something as specific as hate based on race or sexual orientation or as broad as economic hard times.
Such is the case as police officials and experts sort through Sunday's attack on the Unitarian Universalist church in Knoxville, Tenn., by a gunman who apparently believed he himself would be killed.
"There's a whole category of mass killers who are seeking vengeance against a group of people who they feel are taking away their birthright, their opportunities, and making it difficult to succeed," says Northeastern University criminologist James Alan Fox, author of "Extreme Killing." "They don't see themselves as criminals, but ... as striking a measure of justice, winning one for the little guy. This case may show that [Jim Adkisson] perceived that society has been bending backward to favor disenfranchised groups so they're trying to get some justice for their own victimization."
Police say Mr. Adkisson, an unemployed mechanical engineer, left a note listing his own inability to find a job as one reasons for his attack. He also railed against the Unitarian Universalist denomination as being "liberal," including the church's advocacy for gay rights. The FBI is investigating the shooting as a hate crime.
---