U.S. cities tout merits of less costly 'staycations'
As the economy drags, cities launch campaigns to woo residents to local attractions.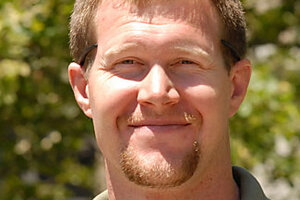 Mary Knox Merrill – staff
What do temporary tattoos, 12-foot-tall red pins, trips to Six Flags, and tickets to the Broadway musical "Wicked" have in common?
They're all ways America's cities are encouraging local residents to vacation at home in this summer of high airfares and soaring prices for gasoline and food. As many states reel from reductions in consumer spending and sales-tax collection, successful efforts to turn tourism promotion inward could breathe much-needed life into local economies.
"Anytime you can keep a dollar at home, that's good," says Bonita Kolb, a marketing professor at Lycoming College in Williamsport, Pa. "If you have commercial attractions like theme parks, local people may often go there. But there's a lot more to a city than that, like local cultural events that people might just ignore because they take them for granted."
Last week, New York City unveiled a "Go Local" website that highlights free or inexpensive activities ranging from an African guitar festival in Brooklyn to the Hong Kong Dragon Boat Festival in Queens. The city will dispatch street teams every Thursday for the next five weeks to distribute savings passes, weekly itineraries, and Go Local-branded stickers, temporary tattoos, and beach balls to residents.
---