Slow economy forecast for fall election
Citing dreary job numbers, some economists see the first 'recession election' since 1980.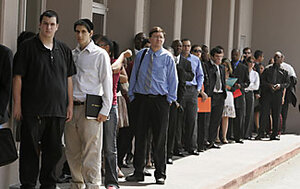 Fred Prouser/Reuters
It's likely to be a bumpy ride for the US economy between now and Election Day.
With only three months to go before the Nov. 4 contest, many economists expect a dreary backdrop at the ballot box: a rising unemployment rate, falling home prices, and stressed consumer bank accounts.
There could be some bright spots as well: US business continuing to sell goods abroad and some energy-producing areas of the nation experiencing minibooms. But on the whole, the economic news is expected to be gloomy.
"It looks like we will have a mild recession but a long recession," says David Wyss, chief economist for Standard & Poor's in New York.
One of the latest signs came Friday when the Department of Labor reported that the July unemployment rate rose to 5.7 percent, up from 5.5 percent in June. The economy lost 51,000 jobs, the seventh month in a row for job losses. By Election Day, some experts predict, the jobless rate will be 6 percent.
"Layoffs are going to continue as we go into a gradual downturn," says Mr. Wyss.
If the economy continues to fade, this could be the first election during a recession since 1980, when Republican Ronald Reagan defeated a sitting Democrat, President Jimmy Carter.
The economy and double-digit inflation weren't the only challenges facing Mr. Carter. That race was also marked by long gasoline lines and the hostage crisis in Tehran. But the economy is usually a key indicator of which party will take the White House, economists and political scientists note. That could present a major hurdle to the Republicans' presumed nominee, John McCain.
---