Greening autos: Experts comment on the candidates' policies
Depending on their own point of view, they give thumbs up – or down – to Obama's and McCain's energy proposals.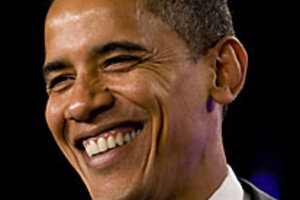 Scott Audette
Clean Car Challenge to American automakers in which a consumer gets a tax credit of up to $5,000 for buying a green car; penalties are raised to car companies for violating federal fuel-efficiency standards; a $300 million prize is offered to improve battery technology for plug-in hybrid or electric cars; tariffs on imported ethanol are removed or reduced.
Use some revenue from cap-and-trade permit auction to invest $150 billion over 10 years for next-generation fuels and for commercialization of plug-in hybrids; invest federal resources to develop cellulosic ethanol; expand locally owned biofuel refineries; require 36 billion gallons of renewable fuels to be included in fuel supply by 2022; double fuel economy standards within 18 years but give tax breaks and federal loan guarantees to US auto companies; expand federal tax credits for hybrids; mandate that all new cars be flex-fuel vehicles.
Jerry Taylor, senior fellow, Cato Institute
On McCain: "His opposition to corporate welfare and subsidy disappears when it comes to the domestic auto industry.... Price signals will deliver all of these sought-after technological improvements if [and] when they are economically competitive."
On Obama: "Obama's plan is a more naked assertion that federal will plus federal dollars will make all technology wishes come true.... If subsidy and mandates could deliver low-cost alternatives to fossil fuels, then ethanol would already be cheaper than conventional gasoline."
---