Where workers can walk – without leaving their workstations
'Treadmill desks,' company-sponsored or home-built, energize the desk-bound.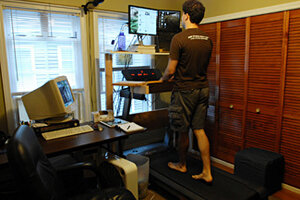 Mary Knox Merrill
Never mind subsidizing employee gym memberships to combat the effects of the sedentary office lifestyle. One Minneapolis company is helping its workers get fit at their desks.
Enter the offices of SALO, a financial-services staffing firm, and you'll find employees clattering on keyboards while they walk. But they're not roaming the floor. Last fall SALO replaced its office chairs with 16 treadmill workstations, each equipped with shelves for mouse, keyboard, and monitor. Employees can amble at a leisurely one mile per hour, burning an estimated 100 calories an hour. They can also chat during "walking meetings" in two conference rooms equipped with treadmills.
SALO, a six-year-old company, had been seeking ways to incorporate physical activity into its health-and-wellness program when a cofounder, Amy Langer, read about a desk being developed by James Levine, an endocrinologist at the Mayo Clinic in Rochester, Minn. Dr. Levine is a researcher in the field of NEAT, non­exercise activity thermogensis. NEAT explores a person's ability to burn additional calories or stored-up energy by walking or standing, or even moving in a seated position.
Levine collaborated with SALO employees during a six-month study that led to the installation of a handful of the treadmills. Employees tentatively got on board. Then things started to happen.
Craig Dexheimer, director of operations and administration at SALO, participated. At the start of the study, Mr. Dexheimer weighed 223 pounds. He walked on the treadmill desk three to four times each week – and dropped 25 pounds over a six-month period.
---