After a long slide, dollar on the rebound
A stronger US currency reduces inflation pressures, but American exports could run into head winds.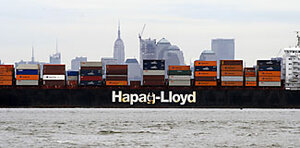 Richard B. Levine/Newscom
This fall, as customers shop for imported olive oil and pungent French cheeses at Fairway Market's stores in Manhattan, they will be in for a pleasant surprise: Their prices are coming down.
Lower food prices?
Yes, thanks to a somewhat more muscular dollar, the greenback is up 10 percent compared with other major world currencies in the past month. Some importers, such as Fairway Market, are trying to pass on the savings to customers. The rise of US currency is taking place in large part because the rest of the world is looking at slower growth or, in some cases, even recession.
A more powerful dollar has important implications. It takes some pressure off hedge funds to put money into oil, whose price continues to fall. A stronger dollar reduces some of the inflation pressures, which should give the Federal Reserve the opportunity to keep interest rates where they are.
But a more muscular greenback also means it becomes more expensive for Europeans to buy American condos and beach cottages. And exports of US goods, which have been strong, may run into head winds if the dollar keeps rising.
"The stronger dollar at this point is a net positive," says Scott Anderson, senior economist at Wells Fargo Economics in Minneapolis. "There has been enough depreciation to give us a boost and enough stability to help us on the inflation front."
Before the recent rally, the dollar had fallen about 45 percent from its peak in 2002. The short-term boost means the dollar is now down about 36 percent from that peak.
---