New bike commuters hit the classroom, then the road
The rush of new cyclists, created by high gas prices, is driving up demand for bike safety classes.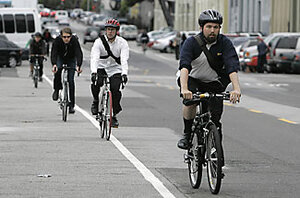 Tony Avelar/Special to The Christian Science Monitor
Like many Americans, Tara Collins hadn't bicycled much since middle school. That changed this year when she started paying $50 to fill up her gas tank.
Since early July Ms. Collins has been biking to her job in San Francisco. Now she's sitting in Bert Hill's bicycle safety course – along with 31 others – after a close shave with a van.
"When that happened I thought, 'Wow, there probably are things I could learn about safety,' " says Ms. Collins. "I haven't been on a bike in years, and even when I did, it wasn't in traffic."
The high price of gas is creating a surge in bicycle commuting across the country, not just in West Coast cities but in places like Louisville, Ky., and Charlotte, N.C. The rush of newbies has triggered tensions with drivers unaccustomed to sharing the road, and driven cyclists to seek out traffic training.
"I'm getting hammered by mayors asking, 'What are you doing about all these new bikers on the street and nobody knows the rules of the road?' " says Robert Raburn, executive director of the East Bay Bicycle Coalition in Oakland. When the organization started classes in 2003, it offered maybe two a year. Now, it has six slated for September with two more to be announced.
---