How can investors help the hungry?
Possible steps include financing small farmers and shunning commodity futures.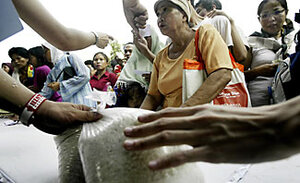 Irwin Fedriansyiah/AP
When skyrocketing food prices triggered riots in more than a dozen countries from Haiti to Egypt earlier this year, investors committed to pursuing social justice weren't sure what to do.
"It's hard to figure out who to blame for the food crisis," says Lloyd Kurtz, principal at Nelson Capital Management, a private money-management firm in Palo Alto, Calif., via e-mail from Malaysia. "Social investment has been most influential when there was an actor that could be identified – e.g., the tobacco companies, the South African apartheid regime, etc. But the causes of the global food crisis are multifaceted.… That's probably why you haven't seen a coherent response from the social-investment community."
But some social investors are trying to find ways to tackle a crisis that has pushed an estimated 130 million people into hunger. In June, the Interfaith Center on Corporate Responsibility launched an initiative to tackle food-related issues and propose investing guidelines for the 275 institutional investors in its membership. The project aims to encourage sustainable agriculture worldwide.
---