Fannie and Freddie: why the takeover
Treasury said Sunday the mortgage giants will enter a conservatorship.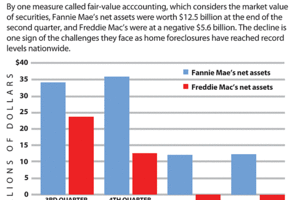 SOURCE: A. Gary Shilling & Co., using data from the companies/Rich Clabaugh–STAFF
By taking control of Fannie Mae and Freddie Mac, the Bush administration has launched a high-stakes bid to bolster the housing market and the US economy – seeking to minimize costs to taxpayers even as it puts them on the hook.
Treasury Secretary Henry Paulson on Sunday announced a federal conservatorship for the two mortgage giants, which play a key role in the housing market, now rocked by falling home values and high rates of foreclosure.
The action begins a formal Treasury role that, just a few weeks ago, Secretary Paulson said he expected to avoid. Fannie and Freddie, as private companies created by government mandate, have long been seen as implicitly backed by the Treasury. Now that backstop is as explicit as it can be.
Why is it coming to this?
The short answer is that legislation Congress passed in July failed to reassure financial markets enough to position the two companies to raise needed capital on their own. That law gave the Treasury new authority to funnel credit or capital into Fannie and Freddie, if needed – at taxpayer expense.
Meanwhile, foreclosures continue to pummel the mortgage firms with big losses.
"It's going to get worse if they don't act," says Peter Morici, an economist at the University of Maryland. "We want this dealt with now."
---