Retailers, banks battle over credit-card fees
Lawmakers weigh legislation allowing them to negotiate fees.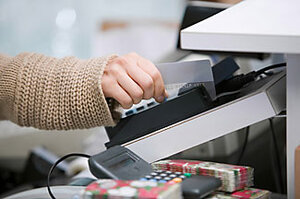 newscom
Sometimes those hurt most by credit cards don't even own one.
At least that's the conclusion from an unusual alliance of merchants and consumer advocates fighting against what they say is an unfair, nonnegotiable fee charged by banks that issue credit cards.
They're supporting congressional efforts to establish a negotiation process to set interchange fees, a processing fee that they say currently fattens bankers' wallets and subsidizes credit-card rewards programs. Currently, credit-card issuing banks set these fees. Merchants have no say, and if they wish to accept credit-card payments, they must either raise prices or absorb the fee themselves.
As a result, advocates say, consumers often wind up paying more for goods and services. And the unbanked – those who lack credit cards with rewards benefits, such as frequent-flyer miles – are the hardest hit.
"The problem with the interchange fee is the have-nots: They're cross-subsidizing the miles of people who go on a ski vacation," says Edmund Mierzwinski, consumer program director for U.S. PIRG, the Washington-based federation for state public interest research groups.
Credit-card companies dispute arguments that interchange fees are burdensome and question who will benefit from legislation. Interfering with the free market, they say, may increase merchants' profits, while reducing available credit and rewards programs for consumers – without any guarantee of lower prices.
---