Fannie, Freddie rescue binds taxpayers to housing market
The final tab may exceed that of the savings and loan bailout, depending on the depth of the housing slump.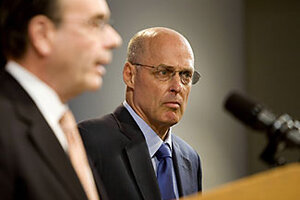 Joshua Roberts/Reuters
The US Treasury is poised to commit large sums – perhaps exceeding $100 billion – in its rescue of Fannie Mae and Freddie Mac, but the real cost to American taxpayers won't be known for years.
The tab will depend on how Washington runs these mortgage giants and how the housing market and economy perform.
A wide range of outcomes is possible, because the size of Fannie and Freddie is so large. With a $5 trillion book of home loans that they own, or have guaranteed, fractional changes in foreclosure rates can translate into tens of billions very quickly.
In a worst case, the cost could run well above the roughly $125 billion that taxpayers spent in the early 1990s to insure depositors in failed savings-and-loan institutions, some mortgage-market experts say.
In other scenarios the short-term infusion of cash might ultimately be recouped with little or no net cost to taxpayers.
What's clear is that every US taxpayer is now tethered directly to the troubled housing market. And the stakes are much higher than the $30 billion federal intervention to stave off bankruptcy at Bear Stearns earlier this year.
---