A bold fix for California's budget impasse
Fed up with another late budget, a business group proposes a state constitutional convention.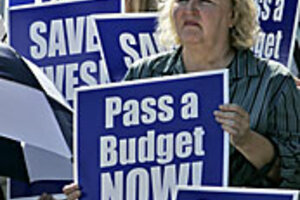 Rich Pedroncelli/AP
As California lawmakers broke the record last week for the most overdue budget in state history, exasperated residents told pollsters they are deeply pessimistic about where the state is headed and how it is run.
Enter a bold proposal: convene a state constitutional convention to change the way the budget gets made.
The idea comes not from a quixotic citizen crusader, but from a staid corner of the business community. "Everything is stuck in place. Political stalemate abounds on the budget and other major issues," says Jim Wunderman, CEO of the Bay Area Council, a business consortium based in San Francisco. "We can't compete the way we are operating."
Constitutional conventions have become rare even in states that periodically place the option on the ballot, including this November in Hawaii, Illinois, and Connecticut. Voters are concerned about opening a Pandora's box of special interests, though experts say there are ways to limit that.
"When the real problem is legislative gridlock or intransigence, and ballot measures have already failed, then there isn't any other avenue than the constitutional convention," says Robert Williams, a law professor and associate director of the Center for State Constitutional Studies at Rutgers University in Camden, N.J.
---