Lehman: The next bailout?
The rescue of Fannie and Freddie may have opened a new era of federal intervention in business.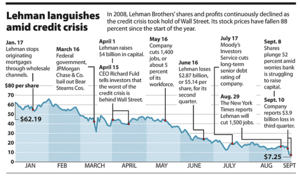 SOURCE: Thomson Financial/AP
Has the US entered a new era of government bailouts for business?
First, Uncle Sam intervened to rescue investment bank Bear Stearns. Then last week the government took over failing mortgage giants Fannie Mae and Freddie Mac.
Now Lehman Brothers is tottering – raising the prospect of another US salvage operation. And the Big Three automakers are in Washington this week with hats in hand, asking for loans to finance development of more fuel-efficient vehicles.
To some economists, actions taken so far have redefined the criteria for the type of firm the government considers "too big to fail." That's particularly true, they say, because the bailouts have occurred under a supposedly pro-free-market Republican administration.
But others say the bailouts are isolated actions. After all, Washington's 1979 provision of loan guarantees to Chrysler wasn't followed by a spike of US intervention in the marketplace.
"This is not the age of bailouts," says Peter Morici, a professor of business at the University of Maryland and former chief economist at the US International Trade Commission. "We get into these situations and then we sober up."
---