Wall Street woes: why world's investors sit on sidelines
Job No. 1 for central bankers: restore confidence in markets.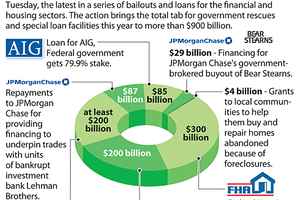 REUTERS
The new challenge for the world's central bankers is not saving another bank or financial institution. It's restoring confidence in world markets.
Just like August 2007 when the US housing debacle began, investors and bankers are now distrustful of lending money even to fellow bankers. When giant insurance company AIG needed help, no one except the Federal Reserve was willing to come to the rescue. The US stock market, sometimes considered a barometer of confidence in the economy, is slipping further into the red. Overseas, market losses are steeper.
"While there is a crisis in credit, there is an even greater crisis in confidence," says Sam Stovall, chief investment strategist at Standard & Poor's in New York.
The short-term implications of the void in confidence is skyrocketing short-term interest rates, which have prompted central banks to inject billions of dollars to try to calm world markets. Longer term, unless confidence returns, the world's economic prospects could dim further.
"Clearly we are in a recession, but this drives us into a deeper and broader recession throughout the world," says Sung Won Sohn, an economist at California State University, Channel Islands.
---