How $700 billion Paulson-Bernanke plan may help house prices
Economists hope the proposed bailout will boost confidence and end the cycle of falling real estate values.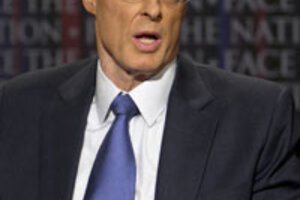 CBS Face the Nation, Karin Cooper
Foreclosed house for sale.
That sign has been popping up with rising frequency in front yards across America as banks unload foreclosed homes. Moreover, the distressed real estate market is causing housing prices to drop further, prompting yet more sales. It's been a vicious circle of falling real estate values.
Now the federal government is hoping to break the cycle – in essence end those foreclosure sales.
The United States, in a plan outlined Saturday by Treasury Secretary Henry Paulson, is offering to buy $700 billion worth of bad real estate assets held by banks and other financial institutions.
Will it be enough to turn around the real estate market and keep the US economy from heading into a deeper trough?
It has a good chance of getting the job done, assuming Congress can get the rescue plan passed quickly, economists say.
"We were in a vicious circle where large institutions were taking large losses on mortgage-backed securities, and when they booked those losses it involved depleting capital," says Richard DeKaser, Washington-based chief economist at National City Corp. "They either needed to raise new capital or reduce their assets further, and in this environment they were selling assets, which depressed prices further. The thrust of Paulson's plan is to mitigate the degree of write-downs." The hope, too, is that the plan will help to keep the crisis on Wall Street from further choking off Main Street.
---