Postcrisis economy: calmer but slower
With no investment banks and tighter regulation, experts see a less dynamic recovery ahead.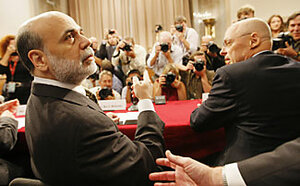 Charles Dharapak/AP
The changes now convulsing Wall Street may have a longer-term effect on the US economy: less dynamism and growth but more stability.
This is the likely outcome because financial innovators – the people who dreamed up those risky mortgage-related investments – will now have regulators in their offices, economists say. Deals that used to bring in huge profits and also funded everyone from entrepreneurs to credit-card users will now be examined much more closely.
"We will be taking some of the zing out of the economy," says Fred Dickson, chief investment strategist at D.A. Davidson. "It will be a moderate to modest tempering over the next five to 10 years."
How much of a tempering?
Mr. Dickson estimates that once the economy recovers, it could reduce growth in the nation's gross domestic product by up to half. "In the first and second quarters of recovery, instead of growth of real GDP of 5 to 6 percent, it could put a cap on the recovery of 2.5 percent to 3 percent," he says.
The battle over regulation began in earnest Tuesday, as administration and Federal Reserve officials pushed Congress to act this week to pass a massive $700 billion rescue plan proposed last week by Treasury Secretary Henry Paulson. Any delay would be "unthinkable," said Tony Fratto, a White House spokesman.
---