Congress is wary of the push to bail out Wall Street
Lawmakers are watching the stock market as an indicator of whether to buy Bush's plan.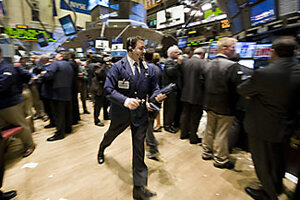 Richard Drew/AP
In its push for a quick, clean $700 billion rescue plan for US financial markets, the Bush administration is invoking a powerful, if volatile, ally: the Wall Street ticker tape.
The market reaction to the ups and downs of negotiations over the bailout hovers over negotiations this week like a Greek chorus – or, as one congressional aide put it, a sword of Damocles.
The narrative runs something like this: Last week on Monday, the market drops 504.48 points, reacting to a failure of the Federal Reserve to offer Lehman Brothers a buyout. It plunges 449.36 points on Wednesday, after the $85 billion bailout of insurance giant American International Group (AIG) "rattles" investors.
But the market rebounds 410.03 points on Thursday, after news leaks that the Treasury Department is about to propose a $700 billion bailout to purge toxic assets from US credit markets. On Friday, markets jumped another 368.25 points, as Treasury Secretary Henry Paulson and Federal Reserve chairman Ben Bernanke launched talks over the plan on Capitol Hill. They warned of dire consequences if Congress did not move on the plan this week.
---