Dow's historic drop reflects financial system's challenges
After 778-point plunge, markets need private investment and bank restructuring for a recovery.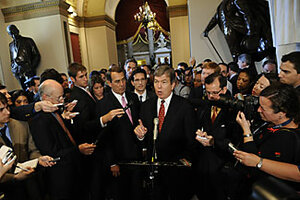 Susan Walsh/AP
The rejection of a taxpayer-backed bailout in the US House Monday propelled US stocks to historic losses – a harsh new signal of the difficulties facing America's financial system.
Even if the $700 billion bailout had succeeded, as massive as it would have been, it would have provided just one new leg for weakened credit markets to stand on. A recovery of the financial system will also depend on reviving the flow of private investment money, closing or consolidating weak banks, and a continuation of the extraordinary efforts by the Federal Reserve. Those may be the lessons of a rocky Monday in markets, as Congress wrestled with a Treasury-backed proposal to buy up bad debts that have clogged the banking system.
After the House of Representatives failed to approve the measure, already gloomy markets nose-dived:
• The Dow Jones Industrial Average saw its largest point-drop ever ‐ 778 points ‐ and a nearly 7 percent decline, its 18th worst ever percentage decline, just under the market's drop after 9/11. The broader S&P 500 market lost 8.8 percent and the technology-heavy Nasdaq, 9.1 percent.
•The "flight to safety" showed no significant easing, with Treasury bills retaining a highly unusual yield of nearly zero percent. It's the investment equivalent of putting cash under a mattress.
---