Could bailout's pay caps launch Wall Street trend?
Some see the beginning of the end for huge compensation for financial titans. Others say the limits are too weak to bring real change.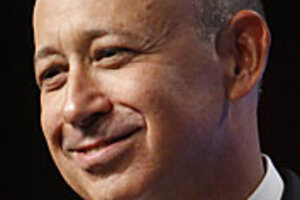 cHip East/Reuters
Lloyd Blankfein, chairman of Goldman Sachs, made $73.7 million last year. James "Jamie" Dimon, chairman of J.P. Morgan Chase, had to make do with $57.2 million, reported Forbes magazine.
But if either company takes part in the federal government's $700 billion rescue plan for financial firms, Mr. Blankfein and Mr. Diamon may have to be content with $500,000 a year, or their company will have to pay higher taxes.
While it's not likely this will cause either man to skimp on meals, the proposed mandate shows the depth of animosity toward highly paid executives on Wall Street. Some compensation consultants wonder, in fact, if the clampdown may be the leading edge of a shift away from the enormous pay packages of the past decade.
"Executive pay rates and Wall Street in particular have reached extraordinary heights," says John Challenger of Challenger Gray & Christmas, a Chicago-based executive outplacement firm. "We may be at the point where the pendulum is beginning to shift."
---