Paulson crafts his new role
In essence, Congress is telling him to create his own financial recovery plan.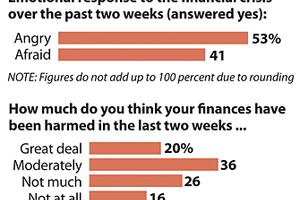 SOURCE: USA Today/Gallup/AP
Wall Street now runs through Washington.
Well, maybe not literally. But the Oct. 3 enactment of a massive rescue bill, plus the government bailouts that preceded it, may have changed fundamentally the relationship between the US capital and the nation's financial markets – and perhaps free-wheeling capitalism itself.
Treasury Secretary Henry Paulson will be the cartographer of a coming age of constraint, with vast powers to buy and sell bad assets, and hundreds of billions of taxpayer dollars at his disposal. Decades of deregulation appear to be at an end, with US agencies eager to impose new constraints on Wall Street's remaining firms.
"We can look forward to a new wave of financial regulation in the months and years ahead," says Richard Sylla, a historian of financial institutions and markets at New York University in an e-mail exchange. "Paulson put that on the agenda last winter, and it seems even more pressing after what has occurred from then to now."
So far regulators don't seem to be wasting time. The Treasury Department did not wait for the House's final approval of the bailout bill before beginning to plan for its implementation, according to US officials.
Secretary Paulson has already begun lining up outside advisers to help the government figure out how to price, buy, and manage bad mortgage-based assets. Paulson, and his immediate successors, won't exactly be kings of all the markets they survey.
Congress added significant oversight provisions to the bailout bill.
---