Markets foresee global contraction
France, Ireland, and Denmark are in recession. Others teeter on the edge.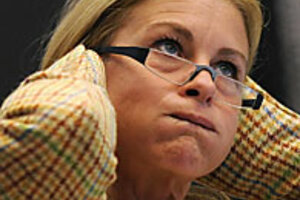 Kai Pfaffenbach/Reuters
Battered by successive shocks, the world economy may be slipping into multicontinent recession.
First, the housing bubble burst in the US and some European nations. Then soaring commodity prices hit countries around the world, especially poor food-importers. Now the bank turmoil wrought by the real estate downturn is spreading beyond Wall Street to other financial capitals.
Ireland, Denmark, and France have declared a recession. Germany and Britain are teetering. Even the hot economies of India and China may suffer slowing growth.
"At this point it is a very fragile situation," says Eswar Prasad, an international economics professor at Cornell University and a fellow at the Brookings Institution in Washington. "There is a crisis of confidence more than anything else."
---