Fed makes boldest move yet
The central bank plans to buy debt directly from companies for the first time in decades.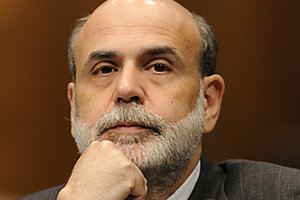 Susan Walsh/AP
The Federal Reserve is now stepping in where financiers fear to tread.
In its latest move to unlock the credit markets, the nation's central banker said Tuesday it will take the extremely unusual step of buying short-term debt directly from America's largest corporations, such as GE, ExxonMobil, and Bank of America.
The Fed effort is one of the most dramatic – and potentially riskiest – steps Ben Bernanke, the chairman of the Fed, has taken in the past month in his effort to get credit flowing again through the economy. He is effectively pushing the Fed into the middle of the private market for short-term corporate loans, known as commercial paper. If it works, companies will have the loans they need to make payrolls and pay bills. If it doesn't, taxpayers could be on the hook for loans that aren't backed by any tangible assets.
The bold measure illustrates the seriousness with which the Fed chairman views the current credit crisis.
"This move shows the Fed is pulling out all the stops to restore confidence in this market," says Phil Flynn, director of research at Alaron Trading in Chicago.
---