Global economy gets global action on rates
In all, 22 nations have lowered interest rates since Monday.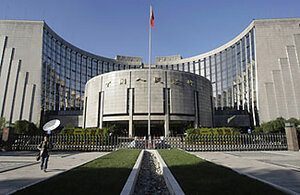 RIchard drew/AP
We get it. And we can move more quickly, and in a more united fashion, than you think.
That's the message the world's major central banks may be trying to send financial markets with their surprise Oct. 8 announcement of coordinated interest rate cuts.
A month ago, some European central bankers still sounded as if inflation, not recession, was their main concern. The US Federal Reserve seemed reluctant to cut its main rate any further.
But volatile stock prices and frozen credit markets have now pushed the world economy to the brink, and central bankers may have felt they needed to do something dramatic to stop rising panic and fear.
"In some senses this is a feature of globalization. These people understand they are all in this together," says Edwin Truman, senior fellow at the Peterson Institute for International Economics and a former assistant Treasury secretary.
The US Fed reduced its key rate from 2.0 to 1.5 percent in the unprecedented joint action. That Bank of England cut its rate by a half-point, to 4.5 percent. The European Central Bank also lowered its rate a half point, to 3.75 percent.
Central banks of China, Canada, Sweden, and Switzerland also cut rates. The Bank of Japan said it strongly supported the joint effort, though Japanese rates are in essence too low to go down much further.
---