A scramble to unlock bank lending
US regulators are cranking out an array of options.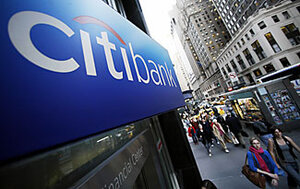 Lucas Jackson/Reuters
America runs on credit.
But the banking system, after writing off hundreds of billions of dollars in bad loans, is not in the mood or may not have the capacity to provide loans to everyone who deserves one.
So now regulators are weighing what steps to take next to unclog the banking system and kick-start the nation's loan officers into lending again to businesses, states, home buyers, and people who just want to buy a car.
Among the ideas: Use taxpayer dollars to buy stakes in troubled private banks, in a bid to strengthen the banks' balance sheets so they will be better positioned to lend. Another is for the Federal Reserve to expand its loanmaking to include mom and pop, not just large companies. Then there's the notion of changing US tax laws to allow the banks to get big refund checks from the Treasury.
"In a crisis no option is off the table," says Brian Bethune, chief US economist at Global Insight in Lexington, Mass. "Whether they ultimately have to do any of this is another matter."
All these suggestions come even after the Federal Reserve on Wednesday made an emergency interest-rate cut of half a percent, the world's central banks have flooded the financial markets with hundreds of billions of dollars, and Congress has passed a $700 billion bank rescue plan.
"What has happened is that all the credit managers have slammed on the brakes and the train has slowed to such an extent it is barely moving," Mr. Bethune says. "How do you get the train moving again?"
---