Alaskans reap boom – and bust – from oil
High prices led to a $3,269 state payout for each resident. But rural areas slumped on $9.20-a-gallon gas.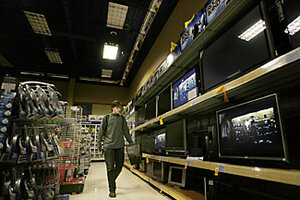 Seanna O'Sullivan/AP/File
The oil price spike has brought the best of times and worst of times in Alaska.
In the state's urban metropolis, a retail frenzy is under way as merchants compete for the extra $3,269 that landed on Sept. 12 in residents' bank accounts. The money is from the normal annual dividend paid by the Alaska Permanent Fund – a record $2,069 payout this year to nearly every Alaska man, woman, and child – plus an extra one-time $1,200 payment, made possible from huge state budget surpluses, that was championed by Alaska Gov. Sarah Palin.
But the high oil prices that are swelling the state treasury and fattening urban bank accounts are crushing rural residents. Energy spending claims 40 percent of household budgets in rural communities, according to the University of Alaska, Anchorage. Here, the big payout is seen as an economic lifeline.
Take Anaktuvuk Pass, an isolated Inupiat Eskimo village in the Brooks Range, the mountains in the same North Slope district that holds Alaska's prolific oil fields. Gasoline prices there had spiked to $9.20 a gallon at one point, meaning a trip by all-terrain vehicle to hunt caribou – the dietary staple in a village whose name translates to "Place of Caribou Droppings" – was an economically risky venture. "And what if they don't catch anything?" asks George Paneak, mayor of the village of 277. "You just have to live with the hard times."
Many rural Alaskans are choosing not to live with the hard times. Some have become "energy refugees" – migrants from their villages to the bigger cities, where costs are lower but traditional cultures and lifestyles are absent.
---