Students eye cheaper colleges as crisis deepens
Nearly 6 in 10 are considering less prestigious schools in order to trim costs, a survey finds.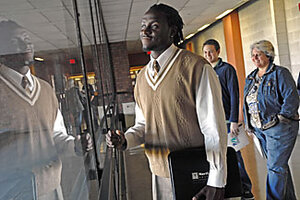 Sarah Beth Glicksteen/The Christian Science Monitor
The nation's financial crisis is forcing college students and college applicants to take a long, hard look at what they can afford and what value they place on investing in higher education.
For some, college will now have to be a dream deferred. Others are adjusting their dream to trim costs.
Dylan Begin started college this fall at a private university in Washington, D.C. Now, the Worcester, Mass., resident is considering in-state public universities for the spring. "Having gone to the private school – and I was paying a solid chunk of change – I've just been sort of thinking a lot and comparing what I actually get for that," he says during a recent tour of the University of Massachusetts, Boston.
His mother, Alice Gentili, says she's relieved he's weighing a move because he and the family would have big loans if he stays where he is. "If he could come to one of the UMASSes, it's so much less expensive and he doesn't have the pressure" of having to have a campus job, she says.
Admissions counselors are hearing many similar stories. The economic turmoil "is forcing a lot of kids and parents to have some very substantial conversations about the financial impacts of going to college," says Bill McClintick, president of the National Association for College Admission Counseling in Arlington, Va.
---