Municipal bonds: an investment with civic pride
Muni issues grow in turbulent times, offering higher yields.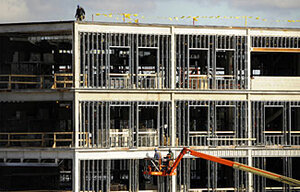 Mary Knox Merrill/Staff
With stock markets swinging wildly and credit markets trying to claw their way out of an icy freeze, investors have been searching for stability anywhere they can find it.
But the quest for financial security does not mean investors have to jettison moral values or bypass opportunities to make a difference. Instead, money managers and observers say, they can earn steady returns – and supply much-needed cash for public services – by investing in municipal bonds.
Muni-bond yields have reached historic highs this fall relative to US Treasury Bonds, which traditionally pay higher interest rates than munis. Since jittery investors have been shy to step up, yields on new muni issues have recently climbed to pay as much as 50 percent more than Treasury bonds.
As a result, investors have been finding high-quality, long-term bonds rated "A" or higher that pay a handsome 6 percent and more in tax-exempt income.
"If you look from a historical perspective at what tax-free bonds are yielding right now, it's a great time for individual investors to be starting to look at individual bonds," says Monte Avery, who manages seven state-specific, municipal bond funds for Integrity Mutual Funds of Minot, N.D.
For investors eager to address civic needs through their investments, munis hold a particular appeal. States and localities depend on the $2.66 trillion muni market to finance everything from bridge repair to school construction and water-system upgrades.
---