Reverse mortgages get a boost from Uncle Sam
New rules raise loan limits, lower origination fees.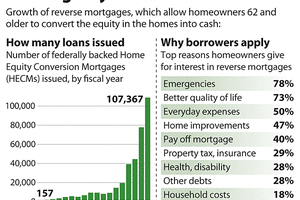 SOURCE: US Department of Housing and Urban Development, AARP/© 2007 MCT
If you're in your golden years and the stock market plunge has left a black hole in your bank account, a reverse mortgage might help.
New rules passed by Congress this summer and set to take effect Nov. 1 have beefed up the federally insured reverse-mortgage program, raising loan limits and lowering origination fees. Called Home Equity Conversion Mortgages (HECM), these loans let seniors age 62 or older tap into the value of their home to get tax-free cash.
To be sure, the timing of the rule changes comes amid a maelstrom in the overall mortgage and housing markets. But industry experts say that lenders are still providing HECMs, which are insured by the Federal Housing Administration (FHA).
In contrast, reverse mortgages built and backed by private lenders are in short supply. According to those who work in the reverse mortgage industry, HECMs account for more than 90 percent of the reverse-mortgage market and currently represent about 99 percent of reverse mortgages being made.
Until a recent slowdown in their growth, HECMs' popularity had been soaring, especially during the mid-decade years. Yet, their market penetration remains only about 1 percent of those eligible to receive them.
Reverse mortgage loans are based on a person's home as collateral, not on their income or creditworthiness. The loan can be obtained as a lump sum, line of credit, monthly payments, or a combination of these ways. The money is not repaid until after the homeowner dies or otherwise permanently leaves the house. After that, the borrower or his heirs repay the loan, plus compounded interest on it. But the size of the repayment cannot exceed the home's value.
The actual size of a reverse-mortgage loan depends on the age of the borrower, the value of the home, closing costs, and current interest rates. Generally, the older the borrower, the more valuable the home, the lower the interest rate, the more money a reverse mortgage can provide.
Experts say the new rules more closely align HECMs with today's home values while boosting safeguards for elder borrowers. Among the key provisions:
---