Are automakers also too big to fail?
A sharp drop in demand is driving the industry to pursue a bailout.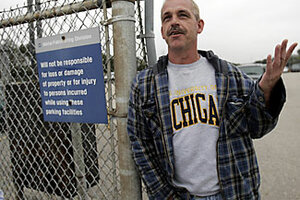 Rebecca Cook/Reuters/file
Now, the Detroit automakers have their hands out.
In a financial scenario that probably sounds all too familiar to Uncle Sam, the auto industry is declaring itself too important – with hundreds of thousands of workers – for the government to allow it to fail.
Ford, Chrysler, and General Motors have recorded years of losses and are now hit with a significant downturn in consumer spending. The industry is seeking billions of dollars in low-cost government loans or some form of federal guarantee or bailout – with the possibility that some of the money could be used for a merger. Business groups and governors are approaching the US Treasury on the industry's behalf.
"The companies are desperate. They need help," says Rebecca Lindland, director of the autos group at IHS Global Insight, an economic consulting firm in Lexington, Mass. "For the country this is our version of 'Joe the mechanic,' and if Joe loses his job, the ripple effect is tremendous."
Behind the crisis is a sharp drop in sales. The break-even point for Detroit is annual sales of 16.2 million vehicles, says Art Spinella, president of CNW Marketing Research in Bandon, Ore. Sales are now about 14.8 million, he says.
---