When gift-card promises go unfulfilled
Shoppers should consider a retailer's financial health before buying its plastic.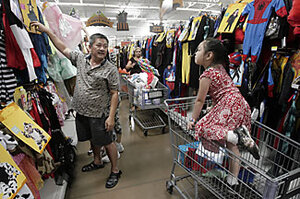 Ric Francis/AP
As the holiday gift-giving season nears, sensitive types claim nothing says, "I made no effort" like the ubiquitous gift card.
It's an assertion most Americans ignore: 79 percent of us have given a gift card for Christmas within the past five years, says Britt Beemer, chairman of America's Research Group, a consumer-behavior research company.
But this holiday season, industry experts say gift cards should be very thoughtfully selected. With more companies shuttering their doors, consumers holding gift cards issued by a retailer that has filed for bankruptcy could find their balances suddenly reduced to zero.
And they'll have little recourse to fight the drain. When Sharper Image filed for bankruptcy in February, some $20 million in unredeemed funds remained from patron's prepaid gift cards.
But that's no reason to stop purchasing gift cards, these same experts say. With a little savvy, consumers can give the cards and spare loved ones the shock of finally finding the perfect gift, only to be rejected at the counter with an empty gift card.
Most Americans are unaware how little oversight regulates gift cards, Mr. Beemer says. According to a survey he conducted around the time of Sharper Image's bankruptcy filing, 14 percent of consumers said they never thought gift cards could lose value.
But gift cards can lose value, either through monthly maintenance fees, expiration dates, or when a company files for bankruptcy.
---